Colin McCahon (1919-1987) – 15 Drawings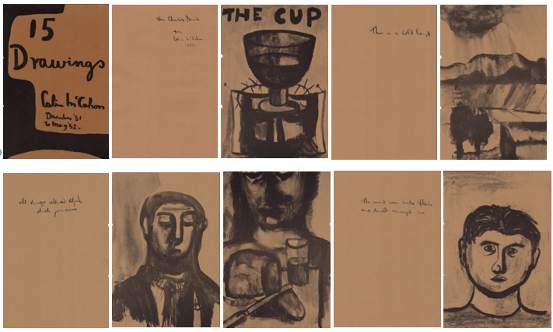 In this post we're looking at a book – a rather famous book – just 24 pages in all (including covers) and valued at around $8,000-$10,000.
It is of course Colin McCahon's 15 Drawings executed between December 1951 and May 1952. They depict the 'Way of the Cross' being the period of Christ's life leading to His crucifixion.
The drawings were done by McCahon then bound together with cord in a 24 page hand-made book which he then presented to his friend Charles Brasch.
A small run facsimile of the book (true to scale in every detail) was produced by the Otago University based Hocken Library in 1976 with a view to making McCahon's work more accessible to the public.
It is unusual to find this book together in its original form as earlier vendors have chosen to split the book into 15 separate framed pictures which were then sold as a set or individually.
The last set to be sold as framed pictures occurred earlier this year and sold for a hammer price of $11,500 plus buyer's premium. Individually the pages have sold for up to $1,200 (Webb's 2020).
Join our mailing list at www.HeritageArtNZ.com/Auctions/ to receive a free catalogue at the end of August and also a free PDF copy of the 184 page New Zealand Art Auction Records.