James Peele (1847-1905) – Ocean Sunset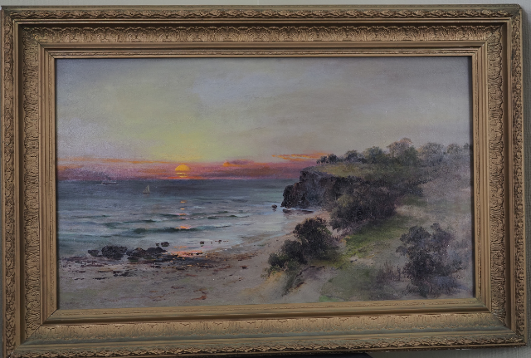 Today we feature one of our New Zealand works coming to auction on September 1.
It is a large oil painting of a rather beautiful sunset by the artist James Peele (1846-1905). It is signed and dated 1894. Born in Australia Peele came to New Zealand in 1865 where he worked for many years. In later life he travelled between New Zealand and Australia painting in both countries. A similar sized work, also of a sunset, by Peele sold in May this year in Perth for A$150,000. This created a world record for the artist. What made that painting so valuable was that it was a picture of a Perth Sunset from the Swan Brewery, signed and dated 1898. In itself there was nothing special. The reason for the exceptional price was that there were two very wealthy Perth businessmen who wanted the painting, and with money no object, the price went through the roof. Had it been any scene other than Perth this price would not have been reached.
The lesson here is very simple. For record prices to be achieved at auction all it takes is two people who want to acquire a particular object and who will bid far beyond any estimate. It happens all the time in the world of art since invariably each piece is unique.
This painting by Peele is expected to fetch $1,000-$1,500 (unless of course we have two people equally desirous of having it).
Join our mailing list at www.HeritageArtNZ.com/Auctions/ to receive a free catalogue at the end of August and also a free PDF copy of the 184 page New Zealand Art Auction Records.