Thomas Rowlandson (1756-1827) – Stolen Kisses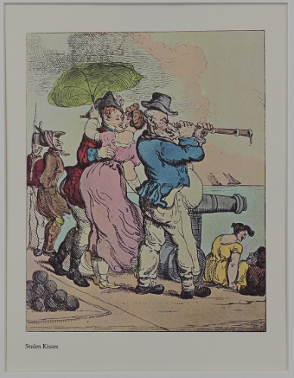 In our last post we spoke about Colin McCahon and his religious works. Now we being more light-hearted.
Thomas Rowlandson (1756-1827) was an English artist and caricaturist of the Georgian era, noted for his political satire and social observation. A prolific artist and printmaker, Rowlandson produced both individual social and political satires, as well as large number of illustrations for novels, humorous books, and topographical works. Like other caricaturists of his age Rowlandson's caricatures are often robust or bawdy. He also produced highly explicit erotica for a private clientele.
Pictured is an attractively framed work from the 1960s book 'The Erotic Drawings of Thomas Rowlandson'. Entitled 'Stolen Kisses' it shows a man peering out to sea through his telescope while his wife is otherwise engaged in 'stolen kisses' with a bystander. Whether intentional or
Not the 'symbolism' of the gun, strategically placed as it is, also pointing seawards cannot be overlooked. There will be at least 4 of Rowlandson's drawings, some more explicit than others, featuring in September's auction. They are expected to fetch a rather modest $100-$150 each despite the immodesty of the subject matter.
Join our mailing list at www.HeritageArtNZ.com/Auctions/ to receive a free catalogue at the end of August and also a free PDF copy of the 184 page New Zealand Art Auction Records.