Heritage Art Auctions
Australian Entries in March Sale
Based in Whanganui, New Zealand, Heritage Art Auctions is a relatively new art auction house just over 18 months old. We hold quarterly 'timed' online art sales running over 5 days, with an occasional 'live' sale as circumstances demand.
In our current quarterly art sale which opened for bidding on March 30, we feature a number of well-known Australian artists whose names (with lot numbers) are shown below. I'm also showing a small number of works by the artists who are being featured. To see the remainder please go to our online Catalogue and click on the appropriate lot numbers.
You can view the catalogue here: https://auctions.heritageartnz.com/2303.1
Registration is easy, costs nothing and will enable you to save any artists that you might be interested in, to your Wish List. In the meantime enjoy the pictures below and do visit our sale. You may find some bargains since most of our Kiwi clients won't be interested in Australian art (more's the pity).
If you have any queries, please feel free to call me on 0064 27 471 2242 or email: Henry@HeritageArtNZ.com.
Our next sale will be at the end of June and we'll likely have more Australian and international offerings in this sale also.
With best regards,

Henry Newrick
Heritage Art Auctions
Heritage House, 136 St Hill Street
Whanganui, NEW ZEALAND 4501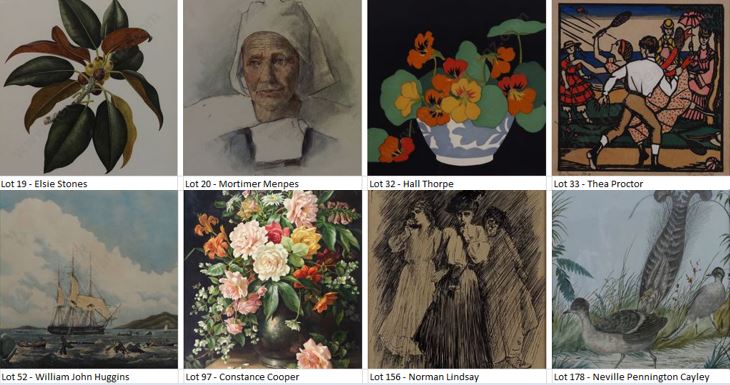 Catalogue can be viewed at:
https://auctions.heritageartnz.com/2303.1
AUSTRALIAN ARTISTS (with Lot Numbers)
In current Heritage Art Sale, closing Tuesday April 4 from 6pm (NZ time)
02 Anthony A. Prout (1946-) – Watercolour
08 Harry Emmett (1900-1979) – Watercolour
15 Ebenezer Wake Cook (1844-1926) – watercolour
19 Elsie Margaret Stones (1920-2018) – watercolour
20 Mortimer Menpes (1855-1938) – watercolour
21 Alfred William Forsyth (1860s-1909) – watercolour
28 John Hall Thorpe (1874-1947) – Coloured woodcut
29 John Hall Thorpe (1874-1947) – Coloured woodcut
30 John Hall Thorpe (1874-1947) – Coloured woodcut
31 John Hall Thorpe (1874-1947) – Coloured woodcut
32 John Hall Thorpe (1874-1947) – Coloured woodcut
33 Thea Proctor (1879-1966) – Coloured woodcut
52 William John Huggins (1785-1841) – Handcoloured engraving
55 Norman Lindsay (1879-1969) – Ltd edition print
91 Valentine Delawarr (1852-1918) – Oil on board
97 Constance Cooper (1868-1960) – Oil on canvas
104 Elanor Wookey (21st Cent.) – Oil on canvas board
107 Sheila Hawkins (1905-1999) – Acrylic on board
134 Thomas Joannes (21st Cent.) – Photograph
145 William Dexter (1818-1860) – Oil on board
148 Robert Edgar Taylor Ghee (1869-1951) – Oil on board
156 Norman Lindsay (1879-1969) – Pen & Ink drawing
158 John Hall Thorpe (1874-1947) – Coloured woodcut
177 Neville Pennington Cayley (1853-1903) – Coloured Lithograph
178 Neville Pennington Cayley (1853-1903) – Coloured Lithograph
180 Norman Lindsay (1879-1969) – Pen & Ink drawing
181 Norman Lindsay (1879-1969) – Pen & Ink drawing
182 Ernest W. Christmas (1861-1918) – Oil on canvas
187 Robert Sidney Cocks (1866-1939) – Watercolour
228 Norman Lindsay (1879-1969) – Facsimile etching
229 Norman Lindsay (1879-1969) – Facsimile etching
232 Robert Fitzgerald (1830-1892) – Books (Australian Orchids)
235 John Hall Thorpe (1874-1947) – Coloured Woodcut
236 John Hall Thorpe (1874-1947) – Coloured Woodcut
240 Ernest W. Christmas (1861-1918) – Oil on board
241 Ernest W. Christmas (1861-1918) – Oil on board
247 Robert Vere Scott (1877-1940) – Photograph
275 Norman Lindsay (1879-1969) – Print (pen & ink)
276 Bruce Fletcher (1937-) – Oil on canvas
286 Beth Wilkinson (Contemporary) – Acrylic on canvas
287 Beth Wilkinson (Contemporary) – Acrylic on canvas
339 F. H. Bassett (1888-1948) – Watercolour